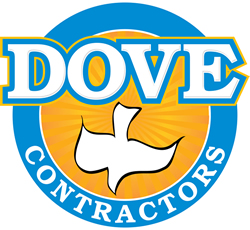 Contact us today for a free estimate at 732.381.6802
Dove Contractors
Our home improvement services include:
Additions
Add-a-Levels
Replacement Windows
Siding
Roofing
Dormers
Decks
Basement Finishing
Kitchens
Baths
Exterior Shells
And More!
Where Quality Construction is a Family Tradition
Increase the value of your house and enjoy your home for years to come
with home improvements from Dove Contracting.
Whether you want to add a deck or a dormer, our experienced contractors provide honest work at a reasonable price. We treat each customer like we would want to be cared for—with professionalism and a pleasant attitude.
Your home improvement will be a breeze with minimal disturbances to your home life while we revitalize your house.
Exterior Shells by Dove
Are you equipped to do it yourself? We'll provide the design, blueprints, permits, demolition, framing and exterior of your new home and let you handle the rest. Ask us about our Exterior Shell services.
---
WHY DOVE

The Dove Difference: Honest, Ethical Craftsmen
Finding an honest contractor is easier than ever when you choose Dove Contracting. All of our professionals possess the highest level of integrity possible in addition to providing exceptional home building and remodeling services. Let our experienced and friendly staff help you create the home of your dreams.
Our New Jersey-based firm is large enough to handle major building projects, but small enough to provide individual attention to local homeowners. With more than 35 years of experience in the business, all of our employees are knowledgeable on all phases of your project.
When you choose Dove Contracting, you get:
Personalized Attention
Competitive Prices
Customized Services
Creative Design
Top-of-the-Line Materials
Detail-Oriented Craftsmanship
Full Guarantee of the Work
Friendly, Knowledgeable Staff
If you're looking for a contractor that puts quality first, trust Dove Contracting to get the job done right the first time around.